The option of Sole Proprietorship firm registration is available to any individual who wants to run his own business. Consequently, it is one of the most popular types of business in India.
What Is a Sole Proprietorship?
A sole proprietorship firm is a business which is owned, regulated as well as managed by an individual. In addition to this, most individuals prefer this type of firm because of the following benefits:
First of all, it has fewer capital requirements,
Secondly, it has lower risks and
Lastly, it requires a small team of employees.
Furthermore, in a sole proprietorship firm, there is no legal distinction between the proprietor and the business entity. That is to say, a sole individual himself can own and run this business. It ensures utmost privacy to its business owner. And not only this, the registration process does not involve much legal compliances.
Who is a Sole Proprietor?
A Sole Proprietor is a living person who is an individual owner of the sole proprietorship firm. Therefore, the only essential requirement for the owner of a sole proprietorship firm is that he must be a living person. This is so, because the owner of the sole proprietorship firm cannot be any corporate or legal entity.
How can TaxHelpdesk help you in your Sole Proprietorship firm registration?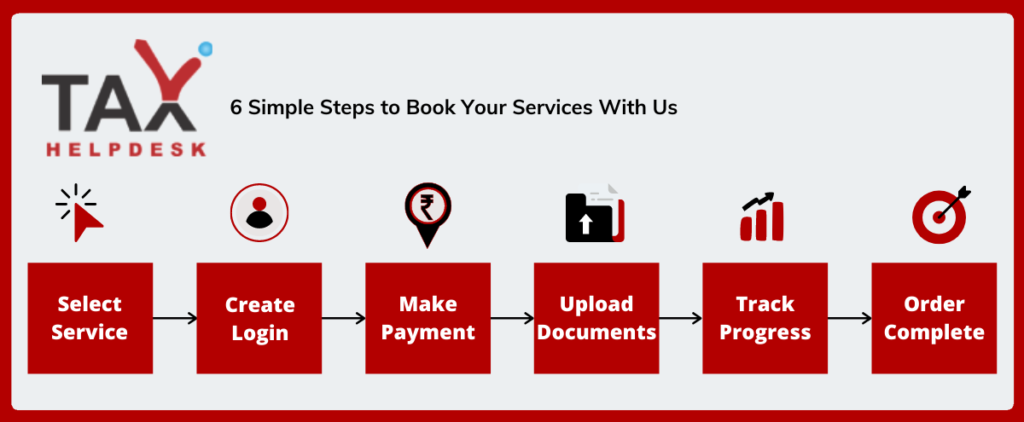 Once your order is placed, TaxHelpdesk's documents reviewing team will check the documents uploaded by you within 24 working hours. After reviewing documents, there will be an assigning of Tax Expert. Thereafter, the processing of your order shall take place. Apart from this, you also will be able to check the status of the order in your respective account.
Sole Proprietorship Firm Registration Procedure
The Sole Proprietorship Firm does not require any registration. In other words, this type of business can even start at home with minimal investment. Therefore, starting a sole proprietorship firm just requires the PAN Card of the proprietor.
Note:
Running a sole proprietorship firm may require trade licences, depending on the type of business to be run by the proprietor.
Trade Licenses for Sole Proprietorship Firm Registration
The trade licenses that a Sole Proprietor may require to start his business are:
– Registration under Shops and Establishment Act
– GST registration, if the turnover exceeds Rs. 20 lacs (services) or Rs. 40 lacs (goods) in a year
– MSME Udyam Registration approved by MSME department
Documents required for registration of Sole Proprietorship
The Sole Proprietorship Frim registration requires the following documents:
– Firstly, 2 passport size photos
– Secondly, PAN Card
– Thirdly, Aadhaar Card
– Fourthly, address proof of place of business
– Lastly, trade licenses, if necessary
Time involved in obtaining registration of sole proprietorship
It does not take more than 15 days to obtain the sole proprietorship firm registration. The counting of days starts from the date of submission of relevant documents.
Advantages & Disadvantages of Sole Proprietorship
– Control over the business

– Minimum legal compliances

– Not a separate legal entity

– No perpetual succession