TaxHelpdesk Associate Partner Program
TaxHelpdesk is a One Stop, Tax Solution, technology driven company, focusing on creating an online marketplace to help the common person to avail the services like taxation, investment and business advisory on affordable prices at their door step.
We, at TaxHelpdesk, have experts who have experience of 25+ years. These experts are professionals including the Chartered Accountants and lawyers who have diversified knowledge for all your queries and requirements.
The mission of TaxHelpdesk is to reach the masses which has no or limited access to the technology, ease their finances and save their time as well as money.
In order to avail our services, the user just has to create the account, select the service and upload the documents required.
Having stated this, there are 4 reasons choose TaxHelpdesk
1. Affordable Price
The services provided by TaxHelpdesk comes at a nominal cost. Becoming a part of TaxHelpdesk Associate Partner Program provides further discount to its associates.
2. Online Process
TaxHelpdesk believes in providing no or least of the trouble to its clients. The user can be at any part of the world and can avail all the services possible just by uploading the relevant documents.
3. Free Consultation
If the user wants to avail any service or has availed any service and has doubts in his mind, then experts at TaxHelpdesk shall provide the consultation at free of cost.
4. Client Satisfaction
For TaxHelpdesk, clients are its valuable assets and it takes it's client satisfaction as a very big deal. It aims at keeping room for no errors and making its users self reliant.
Reasons to be a part of taxHelpdesk Associate Partner Program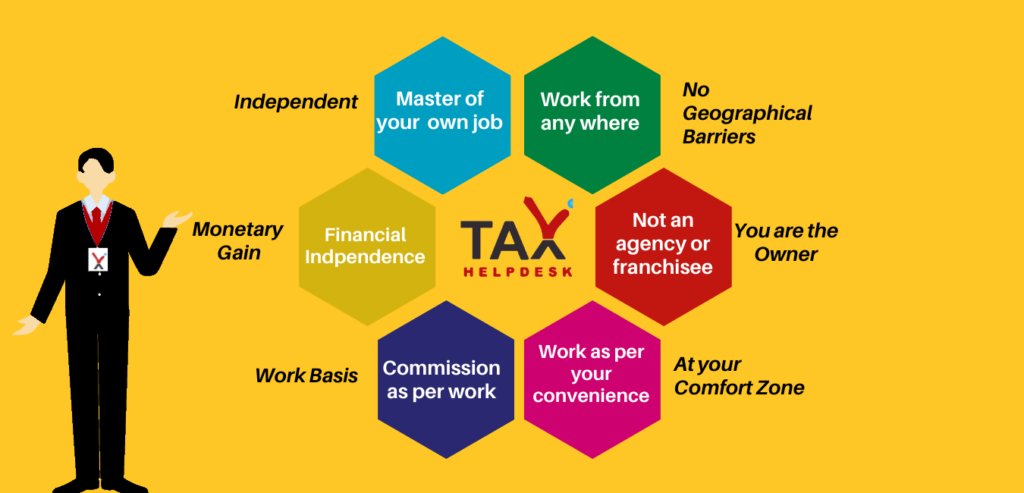 TaxHelpdesk gives an opportunity to all persons located in any part of India to collaborate with us and get their work done at a very minimal cost under the TaxHelpdesk Associate Partner program. 
Having stated that TaxHelpDesk Associate Partner program is unique as it goes beyond the prevalent notions of franchising as we are looking for business associates/partners and not for agency/franchisee model. We realize that in the growth of the partner lies our own growth!
In order to get these individuals connected, the role of Associate Partner plays an important role. He can use the license to use the name of TaxHelpdesk and can get the work from any part of the country. Accordingly, he will be paid for the work brought by him and in this way, he also attain a sense of financial independence. 
role of associate partner
In this dynamic and ever so changing environment, it is now possible to reach the masses just by using the power of a click!
Any person running a shop or a business having a device with an active internet connection can become our Associate Partner. TaxHelpdesk majorly focuses on those regions where people do not have an easy access for their financial and legal help. If they are in need of any service, then they need not to go to offices to offices, people to people for consultation. The Associate Partner on behalf of the customer will upload the documents for the consumer in their respective account for the services that he has to avail.
Like for an example, if an individual wants to get his income tax return filed, then he is not required to come to TaxHelpdesk's office in person. On payment of the cost of the service that has to be availed, the documents required for filing return – Identity proofs, Form 16, Form 26 AS and bank details are to be uploaded in the assigned folder and voila! your work will reach us and our experts will get in touch with you after the completion of the service.
To become Associate Partner is easy and the license to use TaxHelpdesk comes at a nominal rate for which an agreement will be signed between the parties. This signing of the agreement ensures the transparency within TaxHelpdesk. The Associate Partner shall work on principal to principal basis. He will upload the documents on behalf of the customer and in return, he will be paid commission directly.
The Associate Partner shall be given an extensive training from our team of experts and if there are any queries in the future, then they also will be solved promptly by our team!
wish to know more or become an Associate Partner?
My EPF was stuck in the EPF Organisation and the experts at TaxHelpdesk helped me throughout the process and got my fund credited. I am very much happy with their services and recommend them to all my family and friends!
I have engaged TaxHelpdesk for the purposes of filing of GST returns of my business. They even got GST Registration for my business. I highly recommend TaxHelpdesk!
Since my business deals with export and import of ferrous and non-ferrous metals, I needed Import and Export Registration for the same. Choosing TaxHelpdesk was the best decision for me because they got IEC registration for me with minimal calls and follow ups!
I recently got my Sole Proprietorship firm registered with the help of TaxHelpdesk. The process was very easy and i had to upload a few documents required and the registration was done in no time!
The team at TaxHelpdesk is very cordial and helpful. Not only did they get the MSME registration done for my firm but also gave me proper guidance!
The bookkeeping, accounting and auditing work of all my stores of Subway are handled by TaxHelpdesk. I have full faith in the members of TaxxHelpdesk because they are super committed to their work.