Digital Signature Certificates or DSC are the digital equivalent (that is electronic format) of physical or paper certificates. Few Examples of physical certificates are drivers' licenses, passports or membership cards. Certificates serve as proof of identity of an individual for a certain purpose; for example, a driver's license identifies someone who can legally drive in a particular country. Likewise, a digital certificate can be presented electronically to prove one's identity, to access information or services on the Internet or to sign certain documents digitally.
role of Digital Signature Certificate?
The role of Digital Signature Certificate is to sign the documents which are required to be signed electronically and cannot be signed physically. The e-forms/electronic forms are signed using a DSC.
Who can issue this Certificate?
Digital Signature Certificate can be issued by a licensed Certifying Authority (CA). Certifying Authority (CA) means a person who has been granted a license to issue a digital signature certificate under Section 24 of the Indian Information Technology Act, 2000.
The list of licensed Certifying Authorities along with their contact information is available on the MCA portal. 
various classes of DSC and their validity?
Earlier, there were three classes of DSC namely – DSC Class 1, DSC Class 2 and DSC Class 3 with 1 year, 2 years and 3 years validity. But now as per the recent guidelines from Controller of Certifying Authorities of India, DSC Class 1 and DSC Class 2 have been discontinued w.e.f 1st January, 2021. The classes of DSC which stands now is as follows:
– DSC Class 3: Signature
– DSC Class 3: Encryption
– DSC Class 3: Both Signature and Encryption
steps involved to obtain a Digital Signature Certificate online?
DSC Registration can be done online and paperless through Aadhaar Card/PAN Card bases eKYC authentication and supporting documents are not required in this case. The steps involved for application of DSC are as follows:
Step 1: Logon to the website of a Certifying Authority licensed to issue Digital Certificates in India. (For this article, we have demonstrated the process of DSC application through certifying authority e-mudhra)
Step 2: Look for "Certificate" services.
Step 3: Choose the User Type – Individual / Organisation
Step 4: Choose validity – 1 year / 2 years / 3 years
Step 5: Choose Certificate Type – Signature / Encryption / Both
Step 6: Click on "Buy Certificate"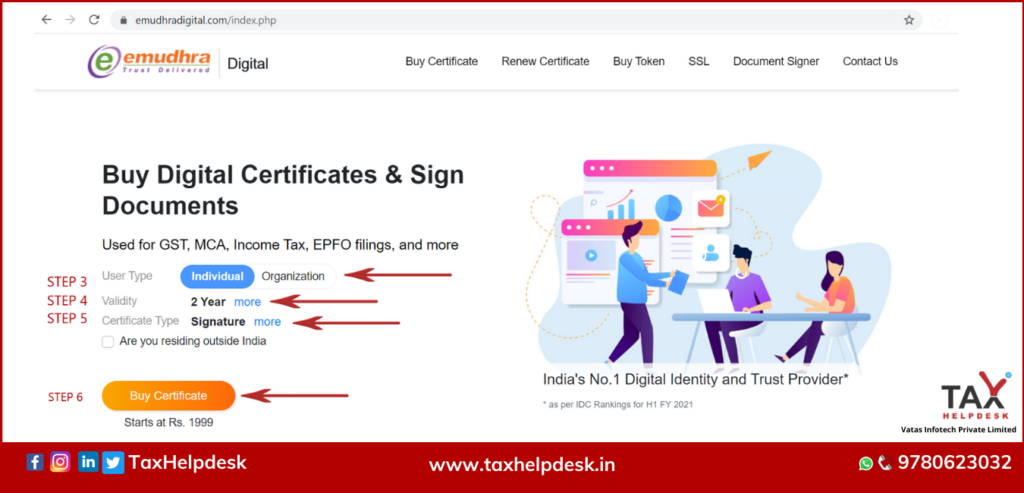 Step 7: Enter your name and mobile number and click on "Continue"
Step 8: Enter the OTP sent on your registered mobile number and click on "Continue"
Step 8: Enter the OTP sent on your registered mobile number and click on "Continue"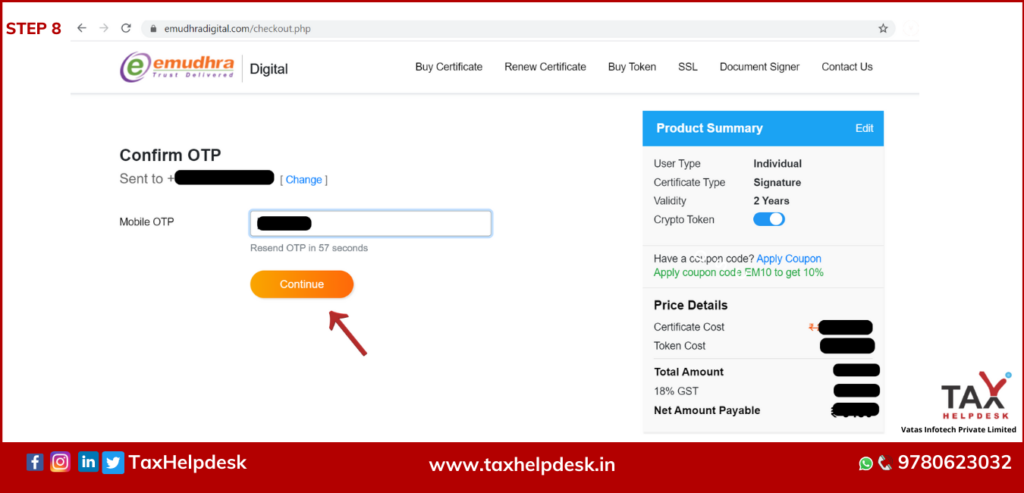 Step 9: Enter the required details – Email ID, Address, State, District and Postal Code and click on "Proceed to Pay".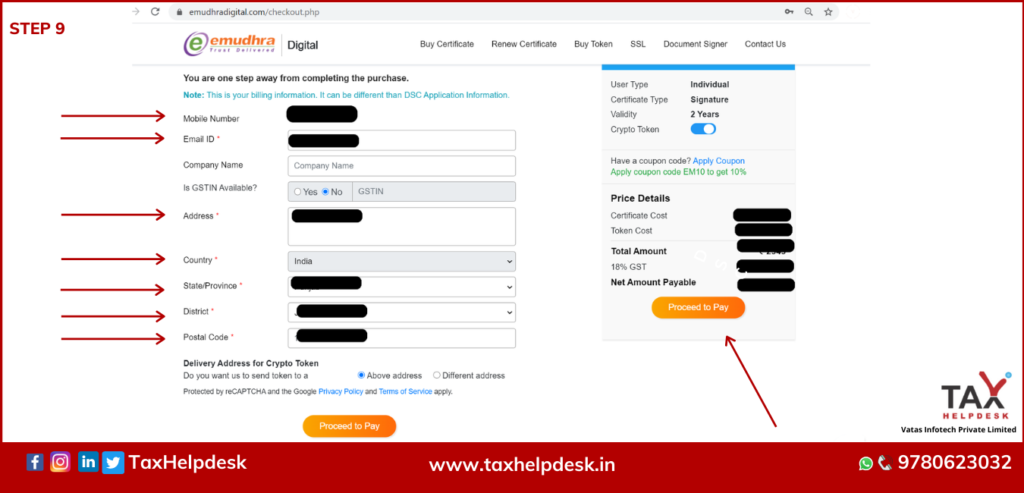 Step 10: After payment, attach your photo and Aadhar Card/PAN for eKYC based authentication
Step 11: Verify certificate information and on verification, application ID shall be generated. Save it for future use.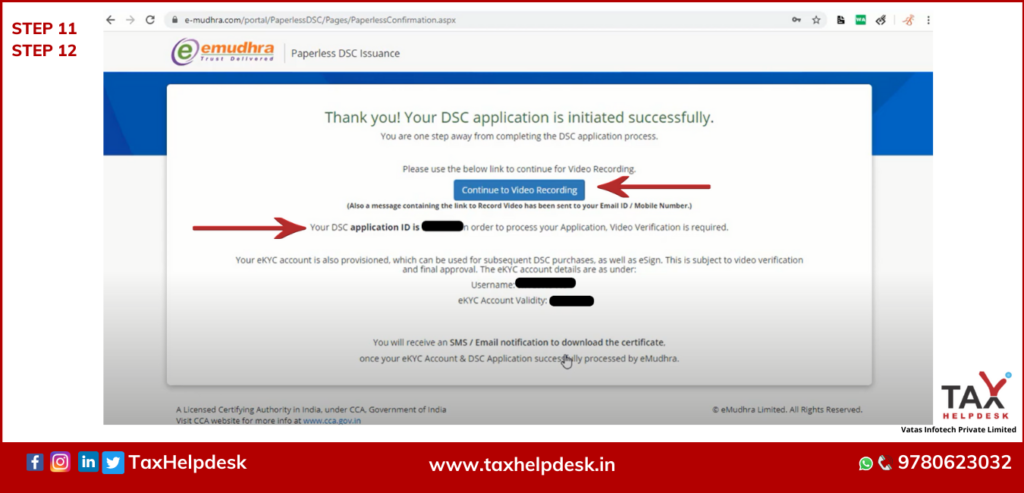 Step 12: The user will now be directed to Video Recording Portal. The link for video recording shall also be sent on registered email ID and mobile of the user.
Step 13: Click on Start Recording and answer the following questions as prompted:
Have you applied for DSC?- Yes I have applied for DSC.
What is your name? – Your name as per Aadhar Card / PAN Card.
What is your date of birth?-
Step 14: Preview and click on Submit the application.
Step 15: On submission, the DSC will be issued to the applicant in a day's time.
Follow the above steps to obtain your Digital Signature Certificate or simply contact us at TaxHelpdesk to get your DSC in no time!
If you have any suggestions/feedback, then please leave the comment below. For more updates on Taxation, Financial and Legal matters, join our group on WhatsApp or follow us on Facebook, Instagram and Linkedin!