TAN Registration: An Overview
TAN Registration or Tax Deduction Account Number or Tax Collection Account Number is a 10 digit alphanumeric number. All persons in charge of deducting or collecting taxes on behalf of the Government must have a TAN. Furthermore, under Section 203A of the Income Tax Act, 1961, it is compulsory to cite TAN on all TDS returns.
The individual deducting TDS has to store tax information to the credit of the Central Government – citing TAN number. However, individuals having income from salary do not have to acquire TAN or deduct tax at source. In any case, a proprietorship entity and other various entities must deduct tax at source while making certain installment like salary, installments to contractual worker or sub-contractual workers, installment of rent surpassing Rs.1,80,000 every year, and so on. On deducting TDS, the entity enrolling for TAN will issue a TDS Certificate as evidence of gathering of tax.
Why is TAN Registration required?
TAN Registration is necessary for each entity, which needs to collect tax at source. Further, each entity has to deduct TDS of their seller, if payment exceeds a certain limit under Income Tax Act. These limits varies on the basis of nature of payment.
For instance, for rent – limit is INR 1,80,000, for experts/professionals – limit is INR 30,000, and so forth. This sum so deducted as tax is then saved to the credit of the Central Government. Non-deduction and deposit of TDS leads to different penalties under the Income Tax Act, 1961.
How to Apply for TAN Registration at TaxHelpdesk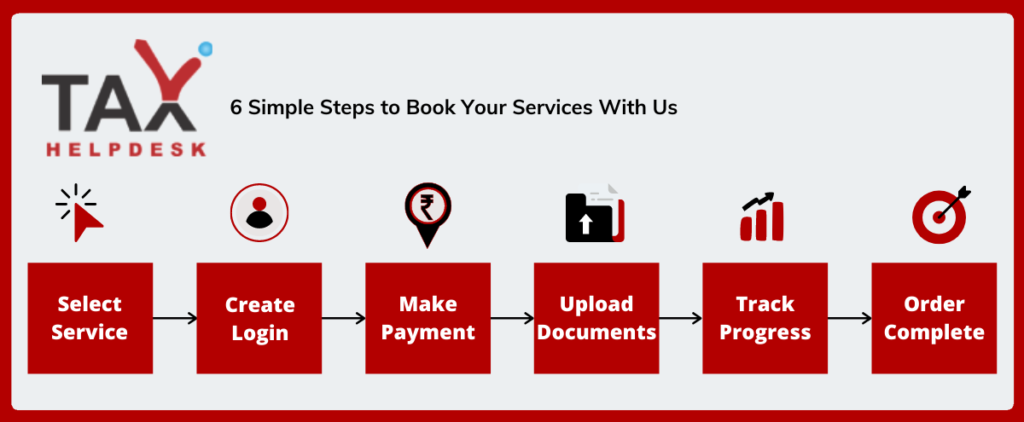 Once your order is placed, TaxHelpdesk's dedicated team for reviewing of documents will check documents uploaded by you within 24 working hours. Thereafter, there will be an assignment of a Tax Expert and then, there will be processing of your order. Apart from this, you also will be able to check the status of the order in your account.
Cases in which TAN Registration is to be obtained
Every person liable to deduct tax at source or collect tax at source is required to obtain TAN.
However, a person who has to deduct tax under section 194-IA can use PAN in place of TAN. This is so because such person does not require to have a TAN. In addition to this, a person who has to deduct TDS under Section 194-IB/194M do not have to obtain TAN.
As per section 194-IB, any individual or HUF [whose books of account do not require to audit under section 44AB] is liable to deduct tax at the rate of 5% while making payment of rent of any land or building or both to a resident person if amount of rent exceeds Rs. 50,000 for a month or part of a month.
Section 203A of the Income Tax Act makes it mandatory to quote TAN in following documents:
Note:
The provisions relating to obtaining of TAN will not apply to a person deducting tax under section 194-IA (i.e. from sale consideration of land/building) and to such person, as may be notified by the Central Government in this behalf.
Procedure involved in TAN Registration
Required Documents for TAN Registration
– Firstly, passport Size Photos
– Secondly, address Proof
– Thirdly, PAN Card copy
– Lastly, legal document (MOA, AOA, Partnership deed/Agreement, etc)
Timeline for TAN Registration
| | |
| --- | --- |
| Particulars | Time Involved |
| Processing of acknowledgement slip | To be sent to NSDL within 7 days |
| Physical copy of TAN | 7-10 days |