The Individuals having an income of up to Rs. 50 lacs are generally required to file their Income Tax Return for income from Salary, through ITR-1 also known as the Sahaj form.
Who can file income tax return for income from salary for individuals?
ITR-1 can be filed only by resident Indian Individuals, having an income of up to Rs. 50 lacs from the following sources:
Who is not eligible to file this ITR?
Income Tax Return for income from Salary through form ITR-1 cannot be filed by the following:
Income of the Individual is above Rs. 50 lacs

Individual is a director in a company and has held any unlisted equity shares at any time during the relevant financial year.

Individual is either a Resident Not Ordinarily Resident (RNOR) or Non Resident

If the individual has income any of the following sources, then he cannot file Income Tax Return for Individuals:
– More than One House Property
– Lottery, Racehorses, Legal Gambling, etc
– Taxable capital gains (Short term and Long term)
– Agricultural income exceeding Rs. 5,000
– Business and Profession
– Individual who is a Resident and has assets (including financial interest in any entity) outside India or signing authority in any account located outside India.
– Lastly, individuals claiming relief of foreign tax paid or double taxation relief under section 90/90A/91.
Get your Income Tax Return filed today by TaxHelpdesk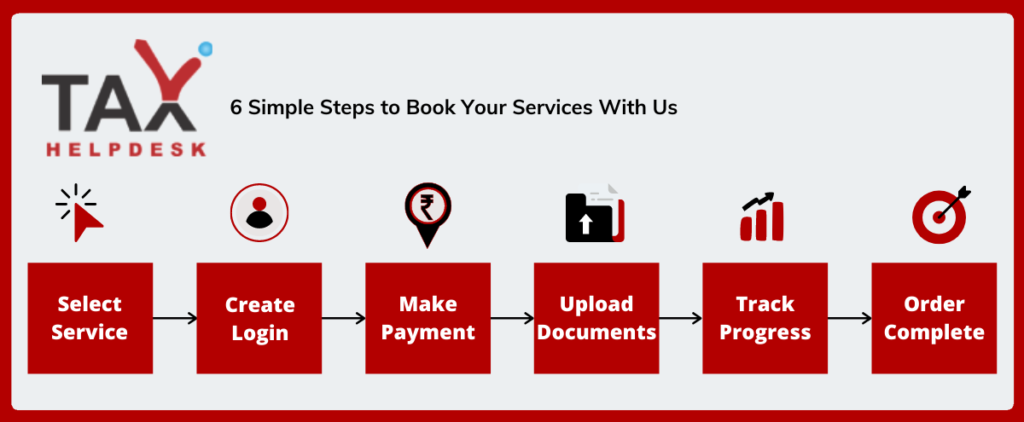 Once your order is placed, TaxHelpdesk's dedicated team for reviewing of documents will check the documents uploaded by you within 24 working hours. Furthermore, after reviewing documents, a Tax Expert will be assigned for Income Tax Return and your order will be processed. Moreover, you also will be able to check the status of the order in your assigned account.
Tax Slabs applicable on Income of Individuals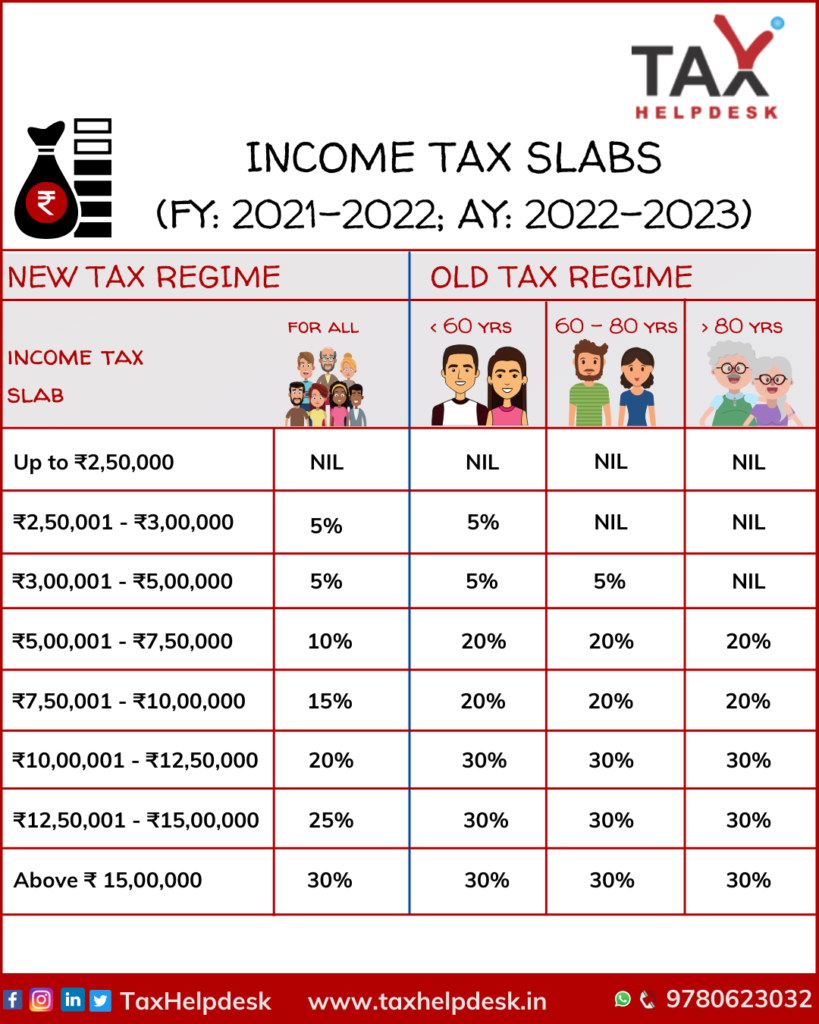 Note:
1. There is no change in Income Tax Slabs for the FY 2021-22 | AY 2022-23
2. The rates of Surcharge, Marginal Relief and SHE Cess are the same under both the tax regimes and shall be levied/provided, where applicable.
3. Rebate under Section 87-A to Resident Individual whose total income is not more than ₹ 5,00,000 is also eligible for a rebate of 100% of income tax or ₹12,500, whichever is less. Further, this rebate is available in both tax regimes.
Incomes on which Individuals can get benefit
The individual can claim Income Tax benefit on Income from House Property on interest paid on housing loan & housing improvement loan. In addition to this, case of self-occupied property, the upper limit for deduction of interest paid on a housing loan is ₹2 lakh. However, this deduction is not available for the persons opting for New Tax Regime.
List of deductions that can be claimed by Individuals
Deduction in respect of life insurance premia, deferred annuity, contributions to provident fund, etc


Annuity plan of LIC or another insurer towards Pension Scheme


Pension Scheme of Central Government


Investment in National Pension Scheme

Deduction towards payments made to Health Insurance Premium & Preventive Health check up


Deduction wrt medical treatment, etc.


Deduction in respect of maintenance including medical treatment of a dependent who is a person with disability


Deduction towards interest payments made on loan for higher education of self or relative


Total amount paid towards interest on loan taken


Deduction towards interest payments made on loan taken for acquisition of residential house property


Deduction towards interest payments made on loan for purchase of Electric Vehicle


Deduction towards Donations made to certain Funds, Charitable Institutions, etc.


Deduction towards rent paid for house & applicable only where HRA is not part of Salary


Least of the following:
Rent paid reduced by 10% of Total Income before deduction,
₹5,000 per month
25% of Total Income before deduction

Deduction towards Donations made for Scientific Research or Rural Development


Deduction towards Donations made to Political Party


Any amount other than cash

Deduction on interest received on saving bank accounts by Non-Senior Citizens


Deduction on interest received on deposits by Resident Senior Citizens


Deductions for an individual with Disability
Note:
Under new tax regime, deductions only under Section 80CCD(2) and Section 80JJA are available.
Procedure of filing of ITR-1
Documents needed for ITR-1 filing
– PAN Card copy
– Aadhaar Card copy
– Bank account details
– Email and mobile number
– Form 16
– Form 26AS
– Housing loan interest certificate
– Interest certificate
– House Rent details
– Bank statement
– Receipts for deductions
Due dates for filing returns of income/loss
| | |
| --- | --- |
| | |
| Individuals whose accounts are not to be audited | 31st July of the assessment year |
| Individuals whose accounts are to be audited | 31st October of the assessment year |
*The due dates are subject to change