Filing of Income Tax Return for LLP, Firms & Others can be through the form ITR-5.
Form Applicable for Income Tax Return for LLP & Firms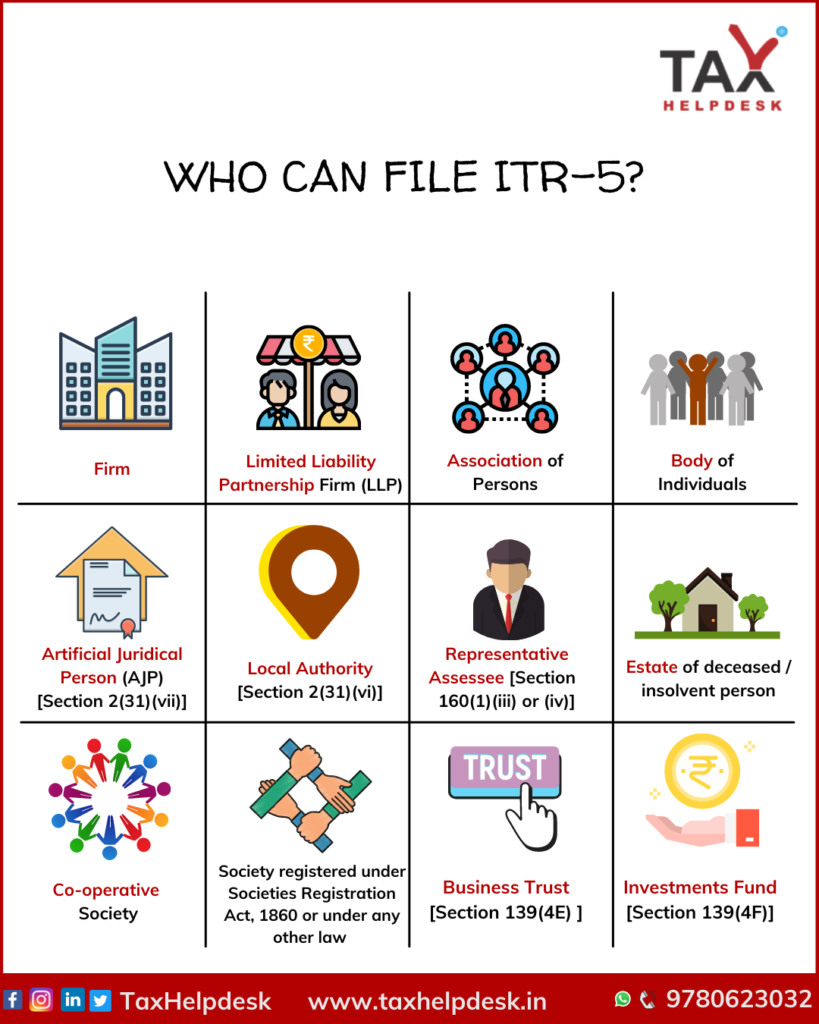 Note:
A person who need to file the Return of Income either under Section 139(4A) or 139(4B) or 139(4D) shall not use this ITR-5 form.
Sources of Income Tax Return for LLP & Other Firms
Step by step procedure to get your Income Tax Return filed by TaxHelpdesk experts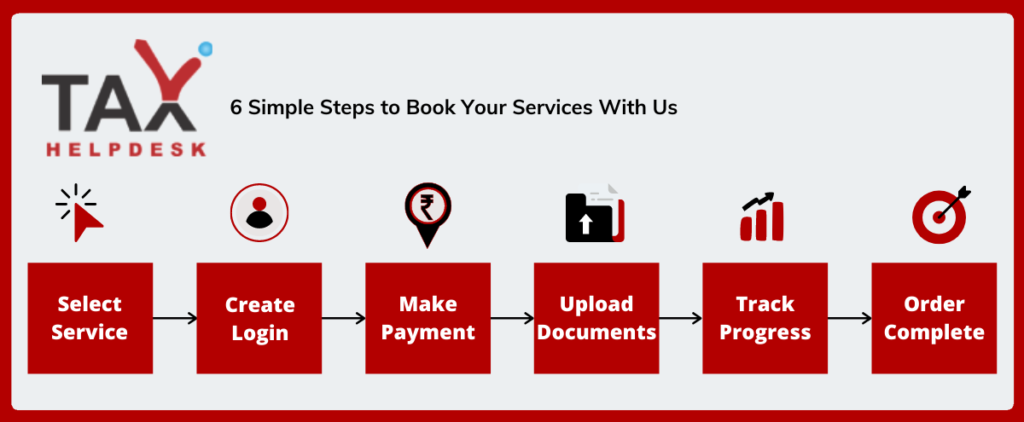 Once your order is placed, TaxHelpdesk's professional team review the documents and check the documents uploaded by you within 24 working hours. Thereafter, a Tax Expert will be assigned and accordingly, your order will be processed. Furthermore, you also will be able to check the status of the order in your assigned account.
After the AY 2013-14, it has become mandatory for an assessee to furnish a report of audit under sections. Further, they are including 10(23C)(iv), 10(23C)(v), 10(23C)(vi), 10(23C)(via), 10A, 10AA, 12A(1)(b), 44AB, 44DA, 50B, 80-IA, 80-IB, 80-IC, 80-ID, 80JJAA, 80LA, 92E, 115JB or 115VW. In addition to this, it can file electronically either on or before the date of filing the return of income.
Income Tax Liability of Firms & Limited Liability Partnership Firms
Tax Rates (For AY 2020-21) for Firms including LLP's
| | | |
| --- | --- | --- |
| Long – term capital gain | 20 | % |
| Short – term capital gain u/s 111A | 15 | % |
| Other Income | 30 | % |
| Moreover, Alternate Minimum Tax (minimum) | `18.5 | % |
Note:
Firstly, Health & Education Cess at rate of 4% on amount of Income-tax plus surcharge is applicable on above rates.
Thereafter, a surcharge of @12% of such tax is applicable, where the total income exceeds Rs.1 crore.
Additionally, marginal relief shall also available, wherever applicable.
Income Tax Slabs applicable for Association of Persons/Body of Individuals/Artificial Juridical Persons
Note:
In addition to the above, the rates of Surcharge, Marginal Relief and cess shall be levied/provided in all applicable cases.
Deductions available to Partnership Firms
Following deductions are available to Partnership Firms:
– Firstly, remunerations or interest paid to the partners of the firm. Meanwhile, this interest is not in accordance with the terms of the partnership.
-Secondly, salaries, bonuses, remunerations, and commissions paid to the non-working partners of the firm.
– Lastly, if remuneration paid to partners is in accordance with the terms of the partnership deed. But, such transactions were made, in relation to anything that pre-dates the partnership deed.
Deductions available to Association of Persons / Body of Individuals / Artificial Juridical Persons
| | | |
| --- | --- | --- |
| | | |
| | Donations to charitable institutions | |
| | Donations for Scientific Research/Rural Development. | |
| | Contribution to Political Party or Electoral Trust | Any amount other than cash |
| | | 100% profit for 10 consecutive AY falling within a period of 15 / 20 AY 100% profit for 10 consecutive AY out of 15 AY beginning from the year in which a SEZ has been notified by the Central Government |
| | Undertaking or an Enterprise engaged in development of SEZ | 100% profit for 10 consecutive AY out of 15 AY |
| | Certain Undertakings in Special Category States | 100% of profits for first 5 AY and 25% (30% for a company) for next 5 AY to manufacture or produce specified article or thin |
| | Certain Undertakings set up in North-Eastern states | 100% profits for 10 AY subject to various conditions specified |
| | Business of Collecting and Processing of Biodegradable Waste | |
| | Employment of New Workers / Employees, applicable to Assessee to whom Section 44AB applies | 30% of additional employee cost for 3 AY, subject to certain condition |
| | Income of Offshore Banking Units and International Financial Services Centre | 100% / 50% of specified income for 5 / 10 AY, as per specified condition |
Key Procedure to file ITR-5
Documents involved in filing of ITR-5
– PAN Card copy
– Aadhaar Card copy
– Bank account details
– Email and mobile number
– Housing loan interest certificate
– House Rent details
– Interest certificate
– Bank statement
– Receipts for deductions
– DEMAT account statement
– Foreign assets/income details
– Details of assets
– Similarly, details of income from any other sources
– Balance sheet
– Even, Profit and Loss in A/c
Due dates for filing of return?
| | |
| --- | --- |
| Particulars | Due Dates |
| A firm who is required to get its accounts audited under the Income-tax Act or under any other law | October 31 of the assessment year |
| A firm who is required to furnish a report in Form No. 3CEB under Section 92E | November 30 of the assessment year |
| In any other case  | July 31 of the assessment year |
*However, the due dates are subject to change.
A limited liability partnership (LLP) is a body corporate under the Limited Liability Partnership Act, 2008. Furthermore, it is a legally separated entity from that of its partner.
Yes, it is mandatory for every Limited Liability Partnership ('LLP'). Hence, they need to file the return of income irrespective of amount of income or loss.
It is mandatory for a firm to file return of income electronically with or without digital signature. In addition, a partnership firm may also file return of income under Electronic Verification Code. However, a firm liable to get its accounts audited under Section 44AB. Even more, it shall furnish the return electronically under digital signature.