The Union Budget, 2020 introduced a new tax regime with lower tax slab rates. If the individual or HUF chooses to opt for this new tax regime, then he will have to forgo majority of exemptions and deductions under the Income Tax Act.
Under the new tax regime, while the income tax slab rates are low, the individual or HUF will have to give up on the majority of the exemptions and deductions. But such assessee opts for old tax regime, then he will not have to forgo these exemptions and deductions but will have to pay higher tax as compared to new tax regime.
Now, this leads to confusion in the mind of the assesse as to what tax regime he should opt for? To understand this, the taxpayer should know what all exemptions and deductions will not be available under the New Tax Regime.
List of exemptions and deduction not available under New Tax Regime
For individuals below 60 years and HUFs
Standard deduction,
House Rent Allowance (HRA),
Leave Travel Assistance (LTA) and even some of the allowances allowed for performing duties.
Deductions available under Section 80C (comprised of various items like EPF, LIP, School Fee, PPF, NSC, ELSS, home loan repayment etc.) ,
Deductions under Section 80 CCD(1) & Section 80 CCD(1B) (for NPS)
Deductions under Section 80D (for health insurance premiums) ,
Deductions for home loan interest for self-occupied (Section 80EEA)
Setting off or carrying forward the loss in respect of let out property.
Setting off of any brought forward losses against current income under new scheme.
For Senior Citizens above 60 years:
Standard deduction
Deduction under Section 80TTB for interest from post office and banks of up to Rs. 50,000
Income Tax Slab under the Old & New Tax Regime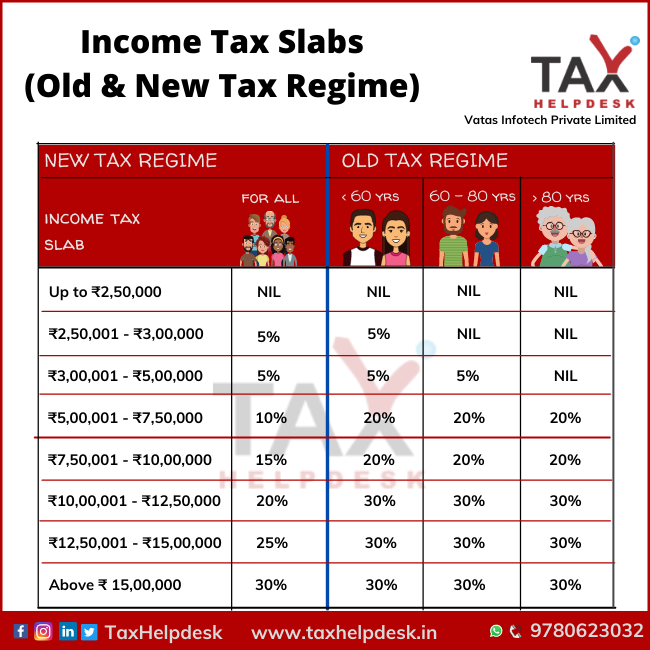 How the Tax Regime scheme works?
The new tax regime can be opted only by individuals and HUFs. There is no fixed formula to state that a particular tax regime will suit a particular category of individual. This is so because the tax benefits varies from person to person. However, looking at the tax benefits which majority of the taxpayer have to forgo, the benefits available with existing regime outweigh the benefits of lower rates of tax by migrating to new regime. This can be well understood with the help of illustration for salaried and self employed individuals.
Also Read: 10 ways to save your taxes
| | | | | |
| --- | --- | --- | --- | --- |
| | Ram (Opting for Old Tax Regime) | Lakshman (Opting for New Tax Regime) | Sita (Opting for Old Tax Regime) | Bharat (Opting for New Tax Regime) |
| | | | | |
| | | | | |
| | | | | |
| | | | | |
| | | | | |
| National Pension Scheme (Section 80CCD(1B)) | | | | |
| Total Income after all deductions | | | | |
| | | | | |
From the above illustration, following can be inferred:
– If the individual or HUF has lots of exemptions & deductions at his hand, then he must go for old tax regime. This is so because if he opts for new tax regime, then he will have to forgo all or majority of them.
– If the individual or HUF has no or less exemptions & deductions to avail, then he must opt for new tax regime.
If you want to know more about Old & New Tax Regime or take TaxHelpdesk's experts consultation, then drop a message below in the comment box or DM us on Whatsapp, Facebook, Instagram, LinkedIn and Twitter. For more updates on tax, financial and legal matters, join our group on WhatsApp and Telegram!
Disclaimer: The views are personal of the author and TaxHelpdesk shall not be held liable for any matter whatsoever!