The major difference between Cash Credit & Overdraft is dependent on various factors like
– Purpose
– Who can obtain it
– How can it be obtained
– Security,
– Interest Rate,
– Limit
Cash Credit is a type of short term loan given to business undertakings to satisfy their everyday working capitals and on the other hand, Overdraft is a facility given by the bank to borrower (individuals, firms, companies or others) to withdraw money from the banks even if balance in his bank account is low, zero or below the amount to be drawn.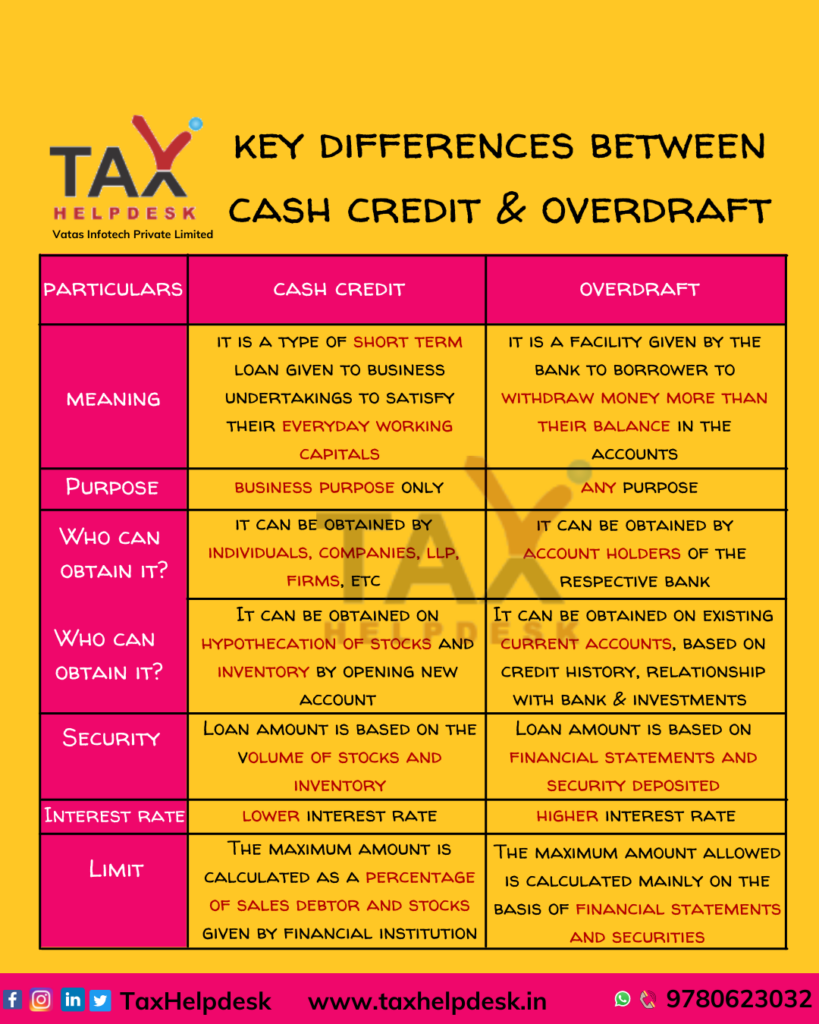 Difference between Cash Credit and Overdraft
The Cash Credit and Overdraft, both of these instruments are used to borrow funds. Following are the differences between the two:
| | | |
| --- | --- | --- |
| | | |
| | It can availed for business purposes, only | It can be availed for any purpose, including business related requirements |
| | It can be obtained by individuals, retailers, traders, manufacturers, distributors, companies, partnerships, sole proprietorship, LLPs, etc. | It can only be obtained by account holders of the respective bank |
| | It can be obtained on hypothecation of stocks and inventory by opening new account | It can be obtained through existing current accounts, based on credit history, relationship with bank and investments like FDs, insurance policies, etc. |
| | Loan amount is based on the volume of stocks and inventory | Loan amount is based on financial statements and security deposited |
| | | |
| | The maximum amount is calculated as a percentage of sales debtor and stocks given by financial institution | The maximum amount allowed is calculated mainly on the basis of financial statements and securities |
Also Read: TDS On Cash Withdrawal From Bank In A Financial Year
Eligibility & Document Requirements for Cash Credit and Overdraft
3 years of experience in business

Borrower should have monthly income of Rs. 35,000/-

He should be in the same job at least for six months

He should have at least 2 years of work experience

Income Tax Returns for at least 2 years

Submission of collateral (eg: real estate papers)

Chartered Accountant certified financial statements

Bank statements of at least 6 months

Record of previous loan, if applicable

Any other documents, as required by the lender

Copies of salary slips of 3 months

Bank statements for 3 months

Any other documents, as required by the lender
If you have any suggestions/feedback, then please leave the comment below. For more updates on Taxation, Financial and Legal matters, join our group on WhatsApp or follow us on Facebook, Instagram, Twitter and Linkedin!